OFFICIAL BLURB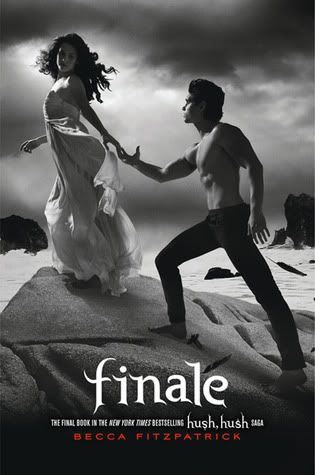 Nora is more certain than ever that she is in love with Patch. Fallen angel or no, he is the one for her. Her heritage and destiny may mean they are fated to be enemies, but there is no turning her back on him. Now Nora and Patch must gather their strength to face one last, perilous trial. Old enemies return, new enemies are made, and a friend's ultimate betrayal threatens the peace Patch and Nora so desperately want. The battle lines are drawn—but which sides are they on? And in the end, are there some obstacles even love can't conquer?
*MILD SPOILERS INCLUDED*
OMO!!! Thank God no one saw me jumping up and down or I would have been teased for life. I couldn't wait for the actual paperback so I had to get the online version and I finished it a day and half ( I would have finished it earlier but school was so annoying and I was so tempted to stay home and finish the book but my parents wouldn't let me), I'm pretty sure everyone else would finish it in less than 5 hours or something. It was that good.
The book was ... it was WOW!!! It was mindblowingly awesome and the ending was so so perfect. There is only one word to describe it and it is PERFECT. The book was the perfect combination of tears, laughter, smiles and very wide grins.
It starts off with Nora at a party and we come to realize and accept that Nora is the new leader of the Nephilim and that her relationship with Patch a fallen angel who is the arch enemy of the Nephilim is detested by one and all.
There is a new guy called Pepper who is after Patch and I don't want to spoil it for you but let's just
say that Patch and him were old acquaintances. Nora grows by leaps and bounds in this book and she started putting her new found special abilities to good use. She changed as a person and it definitely was for the better and we also realize that though a person maybe physically strong they can not always turn away from temptation no matter how much good they have in them.
Patch and Nora go through their fair share of couples quarrels and that adds so much to the book and makes the ending even more sweet and cute and still really hot.
Almost all the characters we have seen so far in the series pay us a visit and even if we hated them or loved them you can't help but smile when you can't help but smile when you think of fond memories with that character. The ending was so bittersweet and you will be crying one minute because of the sadness that plagues your heart and before you know it those tears will be changed to tears of joy and you will be so happy for the characters and at the same time you will feel so sad because the series just ended.
P.S.
Becca Fitzpatrick was right the last words that are spoken are Patch's and they are so undeniably sexy yet so understated.
How about you guys write in some of your favorite quotes from the book or the series for a sort of tribute / farewell to the series.